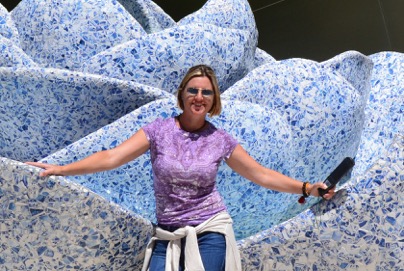 Why I Chose AUM for my Yoga Therapy Training
by Paula D'Onofrio
I am currently very happily enrolled as a Yoga Therapy student at AUM Home Shala. I did a tremendous amount of research before picking this school. Here's why I chose AUM:
Accreditation. Many schools offering Yoga Therapy training are not accredited with the International Association of Yoga Therapists (IAYT), the leading accreditation organization in the field. This is because the IAYT has raised its standards, and many schools no longer qualify. AUM Home Shala does.
Brick-and-mortar school. Some yoga therapy schools are "location independent," which sounds sort of cool, but unfortunately means that they must offer their classes in various venues, depending on what's available when. AUM has its own, very lovely location, so you know exactly where you need to be and when.
Lineage. Melinda Atkins, Director of AUM and its Yoga Therapy Certification Program, received her 500-hour yoga teacher certification at Kripalu Center for Yoga & Health, and her yoga therapist certification at Loyola Marymount University. Both schools are leaders in the yoga world, and their strong reputations contributes to the excellent reputation of AUM Home Shala.
Faculty. The faculty at AUM is amazing. All the teachers have impressive experience and great skill at imparting information in engaging, practical ways.
Schedule. Classes are held over various weekends, roughly one per month. This is a very sustainable schedule for a busy person like me, who has the responsibilities of family and work in addition to my yoga study. Other schools teach in 10-day to two-week modules, which was not something I could commit to.
Location. Although AUM is a five-hour drive for me, that's actually very close, considering that Aum Home Shala is the only accredited yoga therapy school in the state, and one of only 15 or so in the entire country.
Responsiveness. During the course of my research, I called and e-mailed dozens of schools, and spent many hours navigating their websites. Melinda was the only person who actually answered her phone. She responded to my very lengthy email, answering all my questions. In addition, the AUM Home Shala website is easy to navigate and provides lots of information.
Getting your needs met. I've given you a lot of concrete and tangible reasons why I chose AUM for my yoga therapy training. However, there's another that's not as tangible but is equally important. As I have journeyed into yoga, I have become more aware of my body, my emotions, and my intuition. When I first decided to become a yoga therapist, I was determined to take my training with a certain celebrity yoga teacher. But, as I learned more about her training, I got a strong sense that she and her school were not the right choice for me. Fortunately, I listened to my gut: When I contacted Melinda, the difference was like night and day. My vision for my training and career were truly seen and recognized. That's what sealed the deal for me.