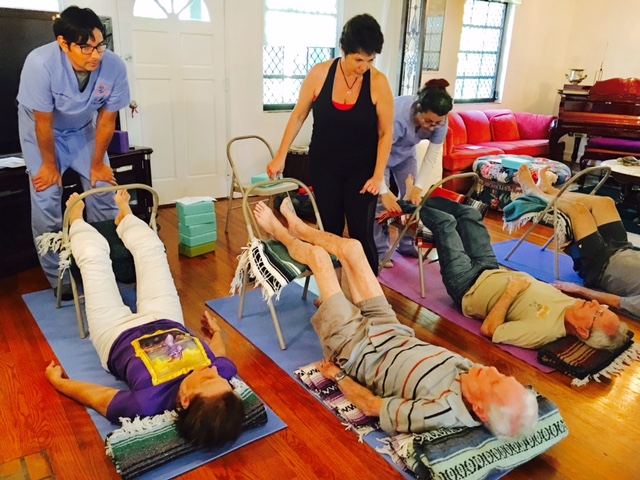 Free Yoga Classes for Alzheimer's and Dementia
Yoga Therapy for Increased Neuroplasticity and Cognitive Function, with Leslie Morris
for those with Parkinson's and other neuro-degenerative disorders, as well as dementia, Alzheimer's, and other cognitive disorders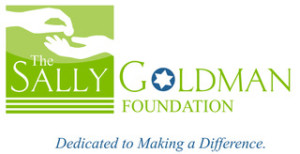 Supported by the Sally Goldman Foundation
Thursday, February 15: 2:15–3:15 pm
Alzheimer's is the sixth leading cause of death in the US and an estimated 5.6 million Americans have the disease, with no cure in sight. In this class series, AUM yoga teachers and yoga therapists work with patients and their caregivers to provide yoga-based practices to help delay the progression of memory disorders and provide strategies for memory improvement. We'll create a supportive community in which seniors can experience social, physical, and mental stimulation, and caregivers can learn tools to manage stress.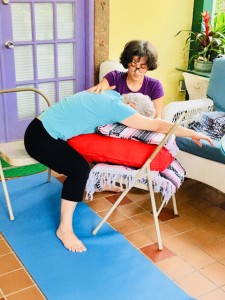 According to Yoga Journal, recent research suggests that yoga and meditation may play a role in preventing and improving symptoms of Alzheimer's, which is the most common form of dementia and the sixth leading cause of death in the United States. In the first study to suggest that memory loss may be reversed, yoga and meditation were included as part of a complex, 36-point therapeutic program. Another study found that yoga and meditation may help Alzheimer's and dementia patients and their caregivers socialize and feel better.
Here's what our students are saying …
"My first motive for coming was my husband, but my own improvement is what keeps me coming back." —G. Lester
"Shaking and posture—vast improvement!" —A. Lester
"I am more stable and need fewer chiropractic adjustments." —T.V.
Download an application for Yoga for Alzheimer's classes.
This class series is supported by a Teaching for Diversity grant awarded by Kripalu Center for Yoga & Health.
Faculty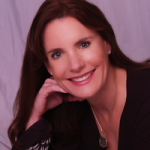 Melinda Atkins, MEd, E-RYT 500, C-IAYT is the founding director of AUM hOMe Shala, where she trains yoga teachers and yoga therapists. She completed her 500-hour certification at Kripalu Center for Yoga & Health, and received her Clinical Yoga Therapy certification at Loyola Marymount University. Melinda also develops and directs yoga programs for at-risk youth in inner-city Miami schools. She holds a master's degree in education from the University of Florida.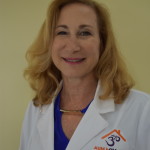 Leslie Morris, MS, CES, RYT, CTTS, is a Clinical Exercise Physiologist certified by the American College of Sports Medicine. She has 37 years of experience providing lifestyle coaching to individuals and groups from prenatal and infants to geriatrics. She spent 25 years of her practice in hospital-based rehabilitation and wellness. Leslie holds a master's degree in Exercise Science and an undergraduate degree in Adapted Physical Education, and is a Yoga Alliance–registered yoga instructor who has taught for 19+ years. As a Clinical Yoga Therapy candidate and daughter of parents who suffered from dementia (of the Alzheimer's and the Lewy Bodies type), Leslie has made it her mission to ease the suffering of those afflicted with neurological diseases.