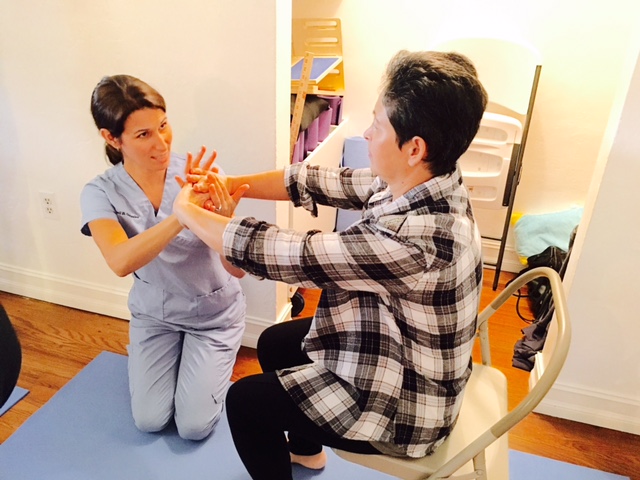 Free Yoga Therapy Sessions for Parkinson's and Other Neuro-motor Degenerative Diseases
Upcoming Class Dates
Yoga Therapy for Increased Neuroplasticity and Cognitive Function, with Leslie Morris
for those with Parkinson's and other neuro-degenerative disorders, as well as dementia, Alzheimer's, and other cognitive disorders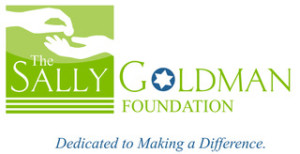 Supported by the Sally Goldman Foundation
---
Yoga Therapy for Parkinson's: Winter/Spring 2018 Dates and Faculty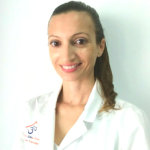 with Carole Ammadio
Fridays, 1:00–2:00 pm
February 9
February 16
February 23
March 2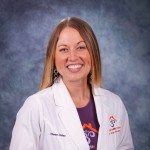 with Eileen Daley
Saturdays, 10:00–11:00 am
February 24
March 3
March 24
April 7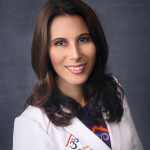 with Grisell Gonzalez
Fridays, 1:00–2:00 pm
March 9
March 16
March 23
April 6

How Yoga Makes a Difference for Parkinson's
Yoga therapy has a proven ability to improve physical health and overall well-being for individuals with Parkinson's, multiple sclerosis, and other neuro-degenerative disorders, as well as dementia, dementia with Lewy bodies, Alzheimer's and other related conditions and challenges. Yoga therapy can help them to:
Manage their condition
Reduce symptoms
Decrease chronic pain
Restore balance
Increase mobility and vitality.
AUM hOMe Shala has a proven record in designing successful programs using a customized protocol of asanas, breathing, relaxation, and meditation.
What Our Students Say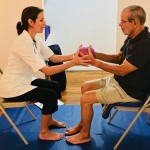 "I want to thank AUM hOMe Shala for changing my life. When I was diagnosed with epilepsy, it knocked me off my feet. But when I was diagnosed with PD, I saw no solution. Though I am still concerned about my future, with your help, I feel I am winning the battle. The clinical trial you have provided me has given back my life and given me confidence that I am winning the battle. After the evaluation and two classes, I saw substantial improvements: Now I can drink from a glass with my right hand, enjoy soup with a spoon, write legibly, balance better, type on my keyboard, and I have much less anxiety and depression." —Alan L.
"My teachers are top notch—the best! This life-changing program provides confidence, better physical well-being, and greatly improves my ability to deal with my PD. The love present in this program is amazing." —J. D.
Download an application for Yoga for Parkinson's classes.
Are you a yoga teacher/therapist interested in working with this population?
We will offer our next free training in the Therapeutic Benefits of Yoga for Parkinson's and Other Neuro-Motor Degenerative Diseases in August 2018. E-mail us for more information.
Download an application for Yoga for Parkinson's teacher training.
Please note: The yoga therapy components of our course are based on IAYT accreditation, not derived from our status as an RYS® with Yoga Alliance Registry.
Additional Faculty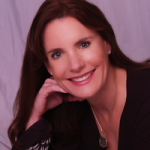 Melinda Atkins, MEd, E-RYT 500, C-IAYT, is the founding director of AUM hOMe Shala, where she trains yoga teachers and yoga therapists. She completed her 500-hour certification at Kripalu Center for Yoga & Health, and received her Clinical Yoga Therapy certification at Loyola Marymount University. Melinda also develops and directs yoga programs for at-risk youth in inner-city Miami schools. She holds a master's degree in education from the University of Florida.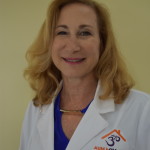 Leslie Morris, MS, CES, RYT, CTTS, is a Clinical Exercise Physiologist certified by the American College of Sports Medicine. She has 37 years of experience providing lifestyle coaching to individuals and groups from prenatal and infants to geriatrics. She spent 25 years of her practice in hospital-based rehabilitation and wellness. Leslie holds a master's degree in Exercise Science and an undergraduate degree in Adapted Physical Education, and is a Yoga Alliance–registered yoga instructor who has taught for 19+ years. As a Clinical Yoga Therapy candidate and daughter of parents who suffered from dementia (of the Alzheimer's and the Lewy Bodies type), Leslie has made it her mission to ease the suffering of those afflicted with neurological diseases.