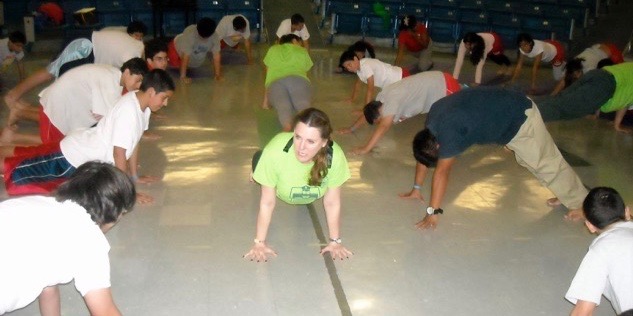 Yoga 4 Youth
Bringing the Gifts of Yoga to Young People

AUM Home Shala is committed to the development of Yoga 4 Youth programs designed for underserved student populations. We introduce yoga programs in schools in the fall, as a means of helping youngsters manage test stress as they prepare for the Florida Comprehensive Aptitude Test (FCAT) administered in the second semester.
Prior to the first yoga class, students take a 90-question online survey, prepared by Shala educators, which helps us determine their specific needs in various areas of health, stress management, and lifestyle. Upon completion of the four-month program, students take an online post-survey that shows us in which areas they have received the greatest benefit. Last year's program was supported by a grant from the Kripalu Teaching for Diversity program.
Our school was blessed to have worked with [AUM hOMe Shala] during the 2011 academic year. The students and teachers truly benefited from the yoga practices. Four of our students even participated in an interview on the Channel 6 Today Show to express their personal growth from these sessions. In addition, the students who participated demonstrated significant gains on the FCAT test.
—Madelyn G. Torres, Reading Coach and Sixth-Grade Team Leader, West Miami Middle School
Please contact us to start the process of bringing Aum Home Shala's Yoga 4 Youth to your school.
Find out more about the impact of yoga on adolescents: Read "Yoga and Academic Achievement: A Preliminary Study in a Miami High School," by Ghada Osman, PhD, E-RYT 500, and Melinda Atkins, MEd, E-RYT 500.