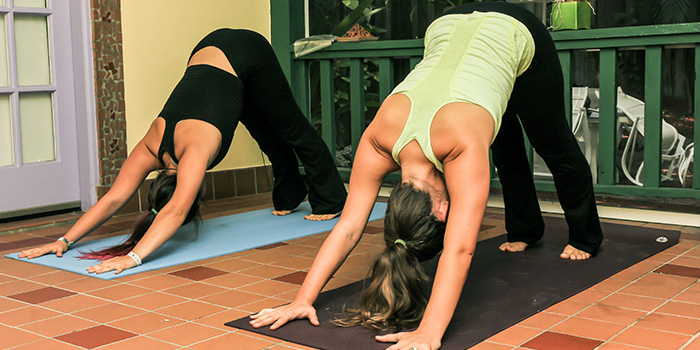 Yoga of Life and Studies
The Yoga of Life Choices
Work with yoga teacher trainer and yoga therapist Melinda Atkins to get clarity around your interests, strengths, and life direction. Melinda has offered guidance to people of all ages, helping them to recognize and develop their abilities and talents — and to think outside the box in order to move into greater thriving in life and work. Contact Melinda to learn more about this personalized service.
Fine-Tune Your Teaching
As part of the Yoga of Life Choices program, Melinda offers coaching and mentoring for yoga teachers who wish to expand their teaching tool kit. Prevent injuries among your students and enhance their experience by learning how to offer clear alignment instruction, sensitive assists, and modifications where necessary.
Holistic Tutoring at AUM
Tutoring can be much more than helping a student use better grammar or improve a test score. It can be life-changing for young people moving toward further education. At AUM, we take a holistic approach to education, which means looking not just at the numbers but at the whole person. Holistic tutoring is about becoming an active partner with students, guiding them to self-motivate and practice self-care in order to achieve their optimum performance.
Holistic tutoring at AUM includes:
Techniques for honing focus

Practical organizational skills

Healthy diet recommendations to create balance

Approaches for combating fatigue

Movement, meditation, and breathing tools to reduce stress and clear the mind

Positive reinforcement to catalyze new habits that work better
We offer holistic tutoring for students in grades 6 to 12, in the following subjects:
English/Language Arts/Literature

Writing

Research skills

College essays
A Living Values Approach to Writing the College Essay
Are you or your high school junior or senior struggling to hone in on an essay topic for a college application? Work with Melinda to uncover an essay topic and approach that expresses who you really are. Melinda, a former English teacher, has successfully used the Living Values methodology to help students create powerful written reflections on their beliefs and convictions in relation to themselves, others, the community, and the world at large. The process involves using questions and answers to zero in on the essence of the topic, while simultaneously creating an outline for the essay.
Yoga of Life & Studies
Holistic Tutoring - 75-Minute Session
Holistic Tutoring - 5 Pre-Paid Sessions