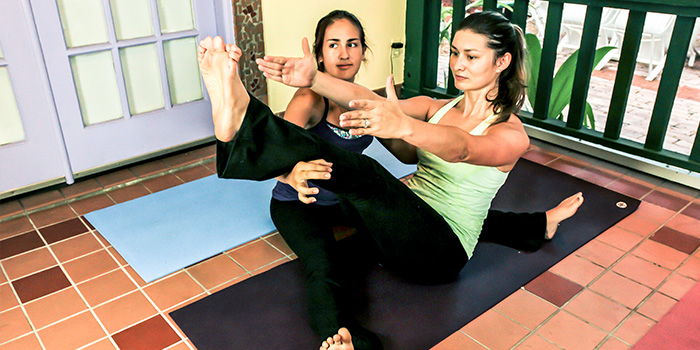 200-Hour Yoga Teacher Training in Mendocino, November 24-December 14
AUM faculty head west to Yoga Shine in Mendocino, California, this fall to offer our signature 200-Hour Yoga Teacher Training! Get certified to teach in just three weeks in this YTT Intensive.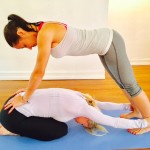 Along with a foundational asana series, you'll study how yoga affects mental health, the respiratory system, and more. You learn everything you need to confidently teach a powerful and transformative mixed-level yoga class. Our graduates work in wellness centers, schools, universities, and hospitals, as well as studios and gyms.
AUM has been training yoga teachers for more than 10 years and was the first accredited yoga therapy school in Florida. The depth and breadth of our trainings have been developed over a decade of study and teaching, in partnership with renowned faculty from around the country.

Graduates are eligible for Registered Yoga Teacher (RYT®) designation with the Yoga Alliance.
Our comprehensive yoga teacher training (YTT) covers:
Astanga Primary Series, Hatha, and Kripalu-style
Personalized instruction and mentoring
Yoga 4 Youth and for other specific populations
Pranayama (breathing) techniques
Teaching with simple, concise language
Safe, effective adjustments of asanas
Introduction to the therapeutic benefits of yoga
Complex sequences designed for moderate to vigorous physical activity (MVPA)
Business of Yoga unit
Textbooks, materials, and 500-page AUM hOMe Shala Teachers Manual.
Special Focus on Yoga for Mental Health
This YTT includes a special focus on yoga protocol for enhancing mental health, taught by Ghada Osman, a Harvard-educated PhD, psychotherapist, yoga therapist, and yoga teacher. The last portion of this training will provide an in-depth understanding of how yoga can effect positive change across a wide spectrum of mental health challenges and disorders, including anxiety, depression, and stress. Content areas include:
Understanding the philosophy and science behind yoga's effect on mental health
Overview of mental health conditions, the role of the therapist, and the models of human development as they relate to psychological well-being
Assessing a client's readiness for working with therapeutic yoga
Breaking down the components of yoga therapy into asana, pranayama, mudras, bandhas, dhyana, and developing witness consciousness
Applying a straightforward, yet comprehensive three-pronged approach to working with yoga for mental health
Developing protocols to work with clients experiencing symptoms of depression, anxiety disorders, trauma, PTSD, and ADHD.
This unit can also be taken as a standalone Yoga for Mental Health training for yoga practitioners or yoga teachers, Sunday, December 10–Wednesday, December 13 (tentative hours: 8:30 am–5:30 pm daily). CE credits available.
Tuition for 200-Hour YTT: $2560 + $150 for materials, books, and teacher's manual; $50 application fee. Register now—space is limited!
Payment Plan: $1,280 upon acceptance; balance of $1,280 due November 10.
Early Bird Tuition for Yoga for Mental Health only: $840 through November 10; save $50. No application or materials fee required. 32 Continuing Education Units available for MFTs, LCSWs, LPCCs, and LEPs; some yoga experience required.
Apply for YTT by October 30 and save the $50 application fee!
Cancellation Policy: If you cancel 3 weeks prior to the program, you will receive a full refund minus a $100 nonrefundable processing fee. If you cancel between 3 weeks and 1 week prior to the program, you will receive a refund of half the tuition, minus the $100 non-refundable processing fee. Cancellations less than 1 week prior to the program are nonrefundable. Course requirements, schedules, and tuition are subject to change, and additional fees may be incurred for books and materials. In the event of under-enrollment, we reserve the right to cancel a program and refund student tuition.
YTT Schedule (subject to change)
Friday, November 24–Thursday, November 30
Saturday, December 2–Thursday, December 7
Saturday, December 9–Thursday, December 14
8:30 am–6:30 pm each day
Download a 200-Hour Yoga Teacher Training Application.
Download a Yoga for Mental Health Training Application.
Faculty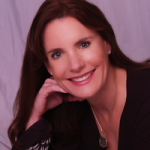 Melinda Atkins, MEd, E-RYT 500C, C-IAYT is the founding director of AUM, where she trains yoga teachers and yoga therapists. She completed her 500-hour certification at Kripalu Center for Yoga & Health, and received her Clinical Yoga Therapy certification at Loyola Marymount University. Melinda also develops and directs yoga programs for at-risk youth in inner-city Miami schools. She holds a master's degree in education from the University of Florida. Melinda was one of the first yoga therapists in Florida to be certified as a yoga therapist by the International Association of Yoga Therapists through their grandfathering process, documenting 2,100 hours of yoga therapy experience.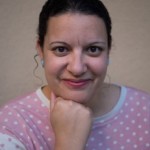 Ghada Osman, PhD, LMFT, C-IAYT, E-RYT 500, is a licensed psychotherapist, yoga teacher, yoga therapist and AFAA-certified aerobics instructor who has worked with a wide range of populations, from college students to hospice patients. In her private practice, her specialties include helping clients work with anxiety and depressive disorders, eating disorders, trauma, grief and loss, and chronic/ serious physical illness. Ghada has been certified as a yoga therapist by the International Association of Yoga Therapy, and she completed her 500-hour yoga teacher training at the Kripalu Center for Yoga & Health. A Professor Emerita at San Diego State University, she holds a doctorate degree from Harvard University and a Master's in psychology from Chapman University.
About Yoga Shine Mendocino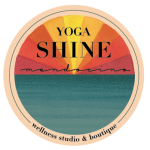 From their website: The vibe at Yoga Shine is very welcoming, nurturing, and has an upbeat fun energy. When you walk through our front door, you will be stepping into our awesome retail area with a variety of ridiculously cute yoga and leisure clothes, yoga mats and towels, jewelry, natural body care products, and more. There will be a smiling yogi to check you in at the front desk and then you head through the sliding barn doors into the studio section to move, breathe, and let go.
The studio is very spacious with bamboo floors and lots of natural light. We use an Infrared Heating System to heat some of our classes. This type of radiant heat is healthier than traditional forms of heat, as they do not blow dust or allergens. Plus, they don't make noise. This eco-friendly type of heat also provides sun-like warmth, heating you up from the inside out. We absolutely love it and so do our students! We provide a variety of different yoga classes that are heated and unheated. Offering a range of different classes to our community is something we are striving for at Yoga Shine.
Find out more: YogaShineMendocino.com
Traveling to Mendocino for our YTT? For limited private housing in the area, starting at $110/night, contact info@AumHomeShala.org. Or check out these local lodgings:
Nonrefundable application fee
Books, Manual, and Materials Fee
Tuition for Yoga for Mental Health unit only