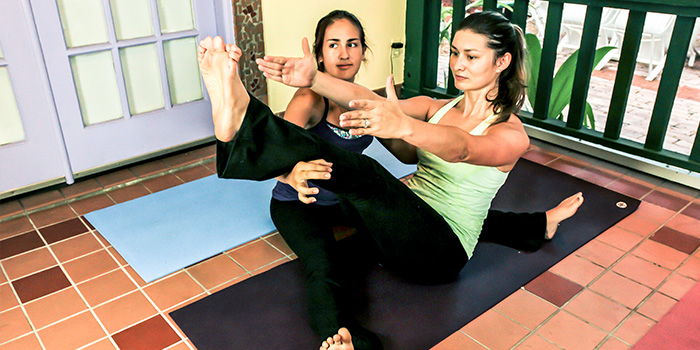 Bridge Program to Prepare for Clinical Practicum
Rolling enrollment throughout the year to prepare for our Yoga Therapy Clinical Practicum.
The Bridge Program is required for applicants who have not participated in our 500-Hour Yoga Therapy curriculum and wish to enroll in our Clinical Practicum. The program is intended to serve as a bridge for yoga teachers from any tradition who are interested in becoming professional clinical yoga therapists.
To discuss start dates, contact us.
"The Bridge Program has expanded my knowledge far more than I ever imagined. Each module sheds so much insight! Much healing and personal transformation happens with each new module and assignment." —R.C.
Requirements to Enroll
300- or 500-Hour training from a Yoga Alliance-approved school
Two years of teaching experience
Entry interview with Director and Head of Clinic
Curriculum Areas
Anatomy and functionality
Proper sequencing and adaptation of postures
Ayurveda and digestion
Yoga therapy for the body systems (cardiac, respiratory, mental health, reproductive, subtle energy, etc.)
Principles of breath and movement for yoga therapists
Observation clinics
Ethics and the Yoga Sutras.
Hourly Breakdown (300 contact hours + 70 distance learning hours = 370 total)
240 contact hours/70 distance learning hours
18 clinical observation hours (students are responsible for HIPPA test fee, approx. $75)
35 assisting/shadowing hours
7 mentoring hours
Course Titles and Dates
Hours are Saturday and Sunday from 8:30 am–5:30 pm each day unless otherwise noted. If you have already taken a course similar to any of the courses listed, we will substitute another of our 18-hour workshops in its place.
Guru Kula Final Presentations: November 18-19, 2017
Observation Clinics: 10 Saturdays, August–November 2017, 10:00 am–4:00 pm, January through June 2018; check online schedule for updates
Yoga for Parkinson's: Select Saturdays, 10:00 am–11am, and Fridays 1:00–2:00 pm, September 2017–June 2018
Introduction to the Therapeutic Benefits of Yoga, Part A: January 13–14, 2018
Tantra Hatha Yoga and Chronic Pain: January 20–21, 2018
Introduction to the Therapeutic Benefits of Yoga, Part B: February 10–11, 2018
Yoga's Therapeutic Benefits for the Respiratory System: March 10–11, 2017
Knees, Hips, Shoulders, Elbows: Therapeutic Benefits of Yoga for the Joints with Marlysa Sullivan: April 13–15, 2018
Ayurvedic Wisdom for Digestion: April 21–22, 2018
Therapeutic Benefits of Yoga for the Heart, May 5–6
Yoga Therapy for Cancer with Kathleen Ross-Allee: March 17–18 (Specialty course includes March 15 and 16)
The Business of Yoga/Assessments: May 19–20, 2018
Therapeutic Benefits of Yoga for Mental Health, June 16–17, 2018
Advanced Pranayama Techniques, July 20–24, 2018
Therapeutic Benefits of Yoga for Parkinson's and Other Neuro-Motor Degenerative Diseases
Yoga for the Endocrine and Reproductive Systems, September 2018
Guru Kula Final Presentations: November 17–18, 2018
Mentorship Component
Bridge Program students are required to spend 7 hours working with faculty mentors, at a cost of $100/hour. Mentorship fees are in addition to Bridge Program tuition, and are paid directly to each mentor for their time and guidance.
Uniforms, Books, and Headshots
300/500-Hour Module students and Bridge students must purchase a pair of CEAL Blue Scrubs and have our logo embroidered, as well as their name, or purchase a name tag separately. These are to be worn in clinic. Cost is variable according to the style you choose; average price with embroidery is $40. Students are responsible for purchasing their own scrubs. We recommend that students have a professional head shot taken wearing their scrubs.
There are three required books for the course: The Yoga Sutras of Patanjali and The Bhagavad Gita, both translated by Swami Satchididanda, and Michael J. Fox's autobiography, Always Looking Up. Additionally, students will be required to purchase two manuals from faculty members, at $25 each.
Clinical students must purchase a lab jacket in a style of their choosing, with logo and embroidered name (or name tag). These are to be worn in the clinic, and average $40 with embroidery. Additionally, clinical students must wear Shala yoga pants/shorts/shirt under their jacket. Cost is $25/shirt; $35/pants or shorts. Students must have a professional head shot taken wearing their jacket.
Payment Information
Tuition: $5,200
Payment Plans: We offer 2-, 4-, and 6-payment plans for your convenience. Terms for 2-payment plan are 50% to start, balance due the 1st of the fourth month after course start. For 4-payment plan, 25% to start, payments due the 1st of the third, sixth, and ninth month after course start. For 6-payment plan, payments due the 1st of every other month after course start. Service fees apply.
Refunds: No refunds will be given once Bridge Program work has been started. Students have up to a year to complete the program.
Please note: There is a $100 nonrefundable application fee, payable below. Two- and four-payment plans also available (see below). Service fee applies and late payments are subject to a $50 late fee.
AUM Home Shala is accredited by the Accreditation Committee of the International Association of Yoga Therapists. For more information, visit www.iayt.org. Yoga therapists certified at AUM are eligible for grandfathering under IAYT's new guidelines.
Course requirements, schedules, and tuition are subject to change, and additional fees may be incurred for books and materials. In the event of under-enrollment, we reserve the right to reschedule a program.
Download a Bridge Program Application.
Nonrefundable Application Fee