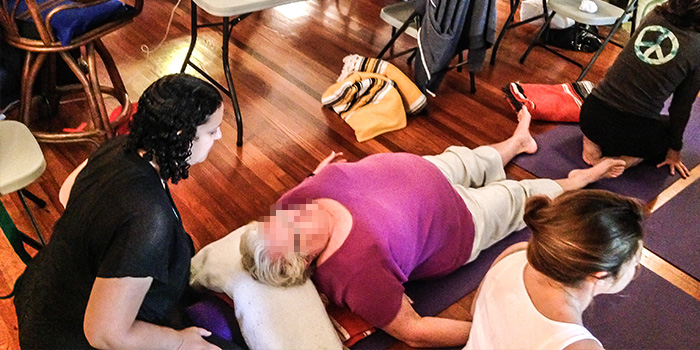 Yoga Therapy Clinical Practicum

In our Yoga Therapy Clinical Practicum, students complete a total of at least 296 hours at our Yoga Therapy Community Clinic as they train to become certified yoga therapists.
What Our Students Are Saying
"This work has changed my teaching life and consistently supported me through the last two years."
"This program is the university level of the yoga teacher training experience!"
"You'll learn more than you ever expected—you'll be able to see inside someone's body solely by looking at them."
Who It's For
AUM Yoga Therapy candidates who have completed 75% of our 500-Hour Yoga Teacher Training (Modules A and B), with a focus on the therapeutic benefits of yoga
Graduates of other 500-hour yoga teacher trainings or yoga therapy trainings who complete prerequisites to be determined.
For those not already enrolled in AUM hOMe Shala's 500-Hour Yoga Teacher Training, a $100 nonrefundable application fee must be submitted with your initial application. Students have 16 months from enrollment to complete the Clinical Practicum; the IAYT requires that students complete the full 800-hour training in less than two years.
We offer a Bridge Program for yoga teachers who have not participated in our 500-Hour Yoga Teacher Training and wish to enroll in our Clinical Practicum.
AUM's Clinical Yoga Therapy training is accredited by the International Association of Yoga Therapists. For more information, visit iayt.org.
Contact hours (296)
Contact hours are comprised of Yoga Therapy clinical sessions, both individual and group sessions. Clinical sessions include the following:
Interdisciplinary meetings with health-care providers working with the client
Development, presentation, and implementation of personalized client protocol
Mentor review and discussion
Completion of post-session observations and SOAP notes
A 2-hour Case Study presentation accompanied by a final paper of 10 to 15 pages
Clinical observation
Introduction to clinical internship and administrative training covering medical records preparation
Distance Learning hours (96)
Distance Learning hours are comprised of the following:
Research and Development of Protocols course
Administrative follow-up for clinical sessions
Competencies
Graduates will have the skills and professional experience necessary to provide therapeutic yoga treatment, with competency in the following:
Yoga teachings and philosophy
An understanding of the functioning of the mind as viewed from a yogic perspective
An understanding of health and disease as seen through the lenses of yoga and Ayurveda
Knowledge of anatomy and physiology and common pathologies and disorders, including mental-health conditions
Knowledge of the interaction of the body, breath, mind, intellect, and emotions in health and well-being
Demonstrated ability to apply these competencies to the development and delivery of yoga therapy protocols
All students are required to carry a current Liability Policy naming AUM Home Shala as a Certificate Holder.
Tuition Information
Tuition for Basic Certification:
Payment Plans: We offer 2-, 4-, and 6–payment plans for your convenience. Terms for 2-payment plan are 50% to start, balance due the 1st of the fourth month after course start. For 4-payment plan, 25% to start, payments due the 1st of the third, sixth, and ninth month after course start. For 6-payment plan, payments due the 1st of every other month after course start. Payment plans include a fee of $200 for 2-payment plan; $400 for 4-payment plan; and $600 for 6-payment plan. A service fee of $50 will apply if a payment is late, if a credit card is declined, or if a check is returned.
Refunds: No refunds will be given once in-clinic work has been started.
Additional fees: An $80 fee is applicable for the HIPPA test. All clinicians must purchase a Shala lab coat (estimated $60 cost, determined by style you choose), shirt, and pants or shorts ($60 for both).
Download a Clinical Yoga Therapy Application.
Download clinical guidelines for student practitioners.
AUM Home Shala is accredited by the Accreditation Committee of the International Association of Yoga Therapists. Yoga Therapy students at AUM hOMe Shala are eligible for IAYT student membership. For more information, visit www.iayt.org.
Please note: The yoga therapy components of our course are based on IAYT accreditation, not derived from our status as an RYS® with Yoga Alliance Registry.
Clinical Yoga Therapy Certification