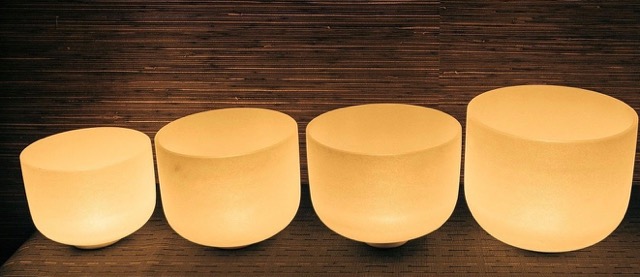 Sound Bowl Healing Meditation Workshop: Sankalpa, January 7, 2018
with Rose M. Csekle, E-RYT 200, RYT 500, CPT
3:30–5:30 pm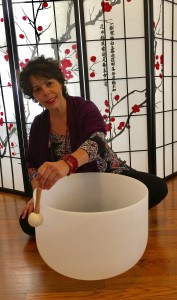 Sankalpa is a Sanskrit word that refers to an intention formed by the heart and mind—a resolution meant to harness the will, and to focus and harmonize mind and body. In this workshop, we'll use Sound Bowl Healing Meditation as a way to set our sankalpa, as we re-energize, renew, and find inspiration for the new year.
Sound Bowl Meditation is an effective healing modality that uses vibrational sound to help reduce stress and create a deep sense of peace. The harmonic vibrations of Sound Bowls impact the sympathetic nervous system as brainwaves synchronize to the vibration of the bowl—engaging the relaxation reflex and slowing down the respiratory and heart rate. Sound Healing has been shown to support the healing process for cancer patients and those with chronic illness by reducing stress and aiding in pain management, as well as releasing emotional and physical trauma.
AUM yoga therapist candidate Rose Csekle brings multifaceted background in both healing and sound modalities. She is certified in Sound Bowl Healing and Qi Gong, and is also a piano teacher and coach with extensive training in voice and music education.
Join Rose for a calming, re-energizing workshop that includes:

Self-awareness practices on the physical, emotional, mental, and energy levels
Gentle postures to prepare the body and mind
Sound Bowl Meditation with a focus on renewal and setting intention
Chime Meditation, using musical chimes representing the four elements
Asanas to promote grounding
Listening Circle inspired by Native American Councils
Journaling to integrate the experience.
Early Bird Tuition: $40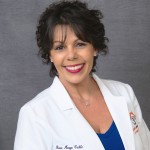 Rose M. Csekle, E-RYT 200, RYT 500, CPT, is a registered yoga teacher and a Clinical Yoga Therapy candidate at Aum, where she recently completed Yoga for Mental Health Advanced Certification. She holds teaching certifications in Sound Bowl Healing with Jed Schlackman, Qi Gong, Kids Yoga, and personal training, and is a massage therapy graduate. Rose also teaches piano for children and coached for auditions for five years. She studied music education at MDC-Kendall and studied voice with Gina Maretta, Sheila Barish, and Warren Broome, and piano with Linda Bird. A cancer survivor, Rose will present on the benefits of yoga therapy for endometrial cancer at AUM's Guru-Kula presentations, November 18 and 19.
Early Bird Tuition (save $5 through December 28)