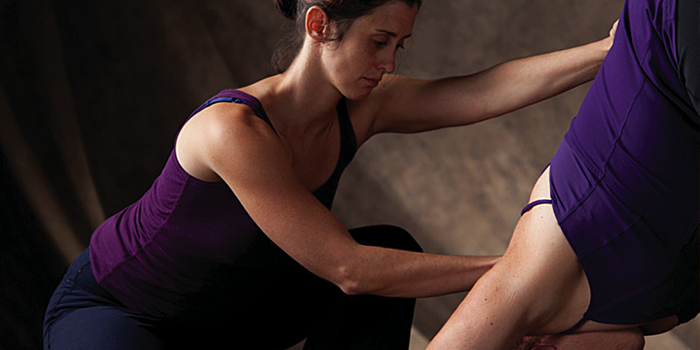 Tantra Hatha Yoga for Chronic Pain, January 20-21, 2018
with Marlysa Sullivan
Saturday 8:30 am–5:30 pm
Sunday 8:30 am–5:30 pm
The path of Tantra Hatha Yoga can transform and heal pain and suffering. Experience how Tantra Hatha Yoga can help us and our students to understand ourselves and our conditions from a new perspective, and to create a new relationship with body and mind.
In this weekend program, you will:
Gain an understanding of the physical, mental, emotional, and spiritual components of pain

Learn about current findings in pain science, physical therapy, neuroscience, and psychotherapy, and how they dovetail with the practices and ideas of Tantra Hatha Yoga

Explore Tantra Hatha Yoga philosophy

Delve deeply into Tantra Hatha Yoga practice, and learn how to adapt this practice to help heal conditions such as low back pain, headaches, fibromyalgia, chronic pain, and osteoarthritis.
Tuition: $325. Register now; space is limited!
Marlysa Sullivan, MPT, E-RYT 500, is a physical therapist with more than 10 years of experience in incorporating yoga into her physical therapy practice. Passionate about integrating the contemporary scientific understanding of the body with the ancient teachings, philosophy, and practice of yoga, she is devoted to the study of Tantra Hatha Yoga and has studied many of the traditional yoga texts. She maintains a private yoga therapy practice in Atlanta, Georgia, and serves on the faculty and as lead clinic supervisor for the Master of Science in Yoga Therapy program at Maryland University of Integrative Health, a program she created that covers anatomy of movement, yogic perspectives on health and disease, and yoga and the mind. Her involvement in yoga research includes a study at Walter Reed Military Hospital for which she created a protocol on yoga for low back pain. Marlysa is a member of the International Association of Yoga Therapists and helped to create the standards for yoga therapy.