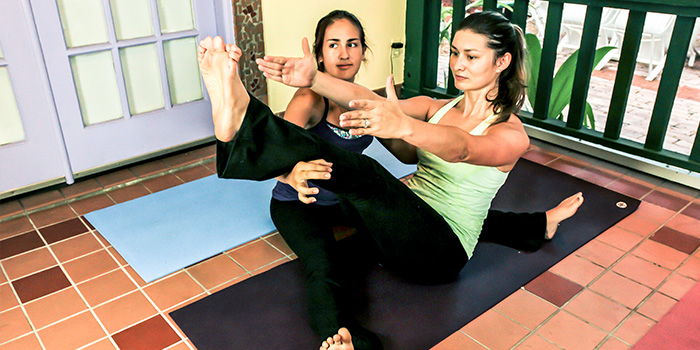 Building a Happy, Healthy Yoga Career
by Melinda Atkins
Some 20 million people are practicing yoga—which means the number of yoga classes, yoga studios, and yoga teachers has been steadily growing. Those who run a studio or have their own yoga-teaching business increasingly need to find ways to stand out from the crowd. As the founding director of Aum Home Shala, I've learned that the best way to grow your yoga career is through specialized training that allows you to expand your toolkit and your client base.
Yoga Therapy Certification
Yoga therapy is an evidence-based modality that is becoming more and more accepted and utilized in mainstream settings, such as clinics, hospitals, nursing homes and physical therapy practices. The movement, breath work and meditation techniques used in yoga therapy protocols offer wide-ranging benefits for every system of the body—cardiovascular, digestive, endocrine, nervous, respiratory and reproductive. No matter what treatment or medications a client is using, yoga can be safely implemented as a complementary therapy in conjunction with Western medical approaches.
For certified yoga teachers, adding yoga therapy to their repertoire requires certification through a program such as Aum's 800-hour training, the only such certification in the state accredited by the International Association of Yoga Therapists, the leading accreditation organization in the field. To give therapists-in-training hands-on experience in the field (supervised by certified yoga therapists), we offer a clinical component that includes working in our Yoga Therapy Community Clinic with clients dealing with conditions as diverse as spinal cord injuries, Parkinson's, heart disease, fibromyalgia, depression and cancer.
Yoga for Special Populations
Another way for yoga teachers to carve out a sustainable business niche is through training to bring yoga to a specific population. For example, teaching safe, effective yoga classes for pregnant women requires an in-depth understanding of the anatomy of pregnancy, and the ability to translate that knowledge into appropriate modifications of asana and pranayama. Once a yoga teacher has gained those skills in programs such as Aum's Prenatal Yoga Teacher Training, a whole new world of clientele and specialized classes opens up to them. Prenatal teachers might partner with OB/GYN practices, doulas or certified nurse midwives to offer expecting mothers an additional level of support and care. (Pregnant women who are interested in being part of the clinical component of Aum's Prenatal Yoga Teacher Training should contact us at 305-441-9441 or info@aumhomeshala.org for more information.)
Specialized knowledge is also essential for teaching yoga to young people. The benefits of yoga for children and youth include improved focus and discipline and enhanced self-awareness, self-regulation and self-esteem—leading to happier, healthier, more productive lives at home, in the classroom and beyond. But, because the brains and bodies of children and adolescents function differently than those of adults, it's vital to understand how to guide these age groups in yoga practice. I developed Aum's Yoga Alliance–registered Children's Yoga Specialist training for teachers who wish to work with youth aged 2 to 18, with a special emphasis on adolescents (middle and high school students).
Deeper Exploration
Finally, another way to re-inspire your teaching is through a deeper exploration of classical yoga practices, such as pranayama. Pranayama, the yogic science of breath control, is a powerful way to raise energy and channel it into spiritual growth, life mastery and healing. AUM's Yoga Therapy Certification and our 200-Hour Yoga Teacher Training include a four-day pranayama training with Yoganand Michael Carroll, Dean of the Kripalu School of Yoga and developer of Pranakriya Yoga. A master-level teacher, he has a profound ability to distill and interpret esoteric yoga texts and techniques.
Equipped with a wealth of knowledge and training, yoga teachers and therapists will find myriad opportunities for sharing the gifts of this powerful practice.