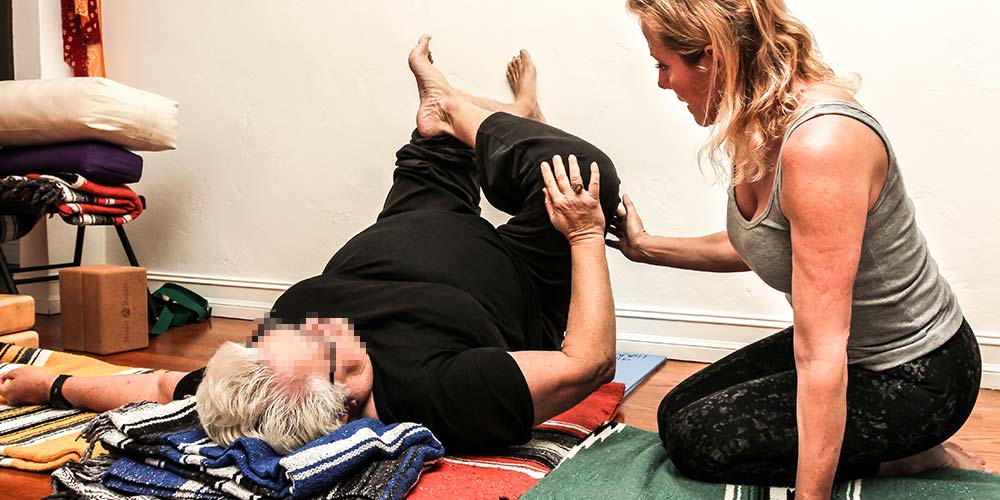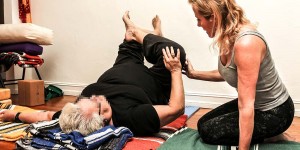 The Healing Power of Yoga Therapy
by Melinda Atkins
I've always loved yoga. But it wasn't until I experienced a severe shoulder injury in 2008 that I realized how powerful the practice could be.
With a torn labrum and a torn rotator cuff, I underwent surgery and had to leave my job teaching yoga at a private prep school. Once my insurance stopped covering my physical therapy visits, I turned to yoga, which helped me regain full range of motion in my shoulder. From my earliest experiences with yoga, I have been inspired by its capacity to heal—I have back pain from childhood scoliosis, and yoga has relieved that tremendously. But seeing first-hand how much it could help me in this extreme situation was even more eye-opening.
That experience led me to enter the emerging field of yoga therapy, in which specific yoga postures and pranayama (breath work) are used to enhance health and combat both the roots and symptoms of disease. I earned my Clinical Yoga Therapy certification in 2010 from Loyola Marymount University in Los Angeles. The same year, I began building AUM hOMe Shala's Yoga Therapy Certification program, which now includes two course levels taught by nationally and internationally acclaimed experts in the field.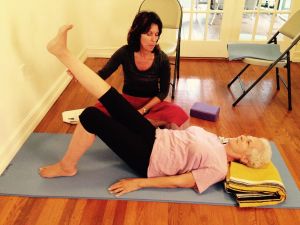 The program's free Saturday-morning clinics are a win-win for the yoga therapy trainees and for community members. The students learn so much working directly with clients, and the clients who volunteer for treatment get the opportunity to benefit from the time-tested wisdom of yoga. In September, AUM's Yoga Therapy Certification program received full accreditation from the International Association of Yoga Therapists, which has developed rigorous standards for yoga therapy certification; AUM's is one of only a dozen or so programs that have been granted the accreditation thus far.
I think of yoga therapy as an "old, new wave" approach to health maintenance—the ancient healing techniques of yoga are now making a comeback as complements to both alternative and allopathic medical approaches. A yoga therapist creates a specific protocol for a client, choosing among yoga techniques to craft a personalized plan for better health. Yoga therapy can be beneficial for those dealing with chronic pain or rehabilitating from an illness or surgery; cancer survivors; people with multiple sclerosis and other neurological issues; and those with cardiovascular and anatomical issues, as well as offering relief for common complaints such as insomnia, stress and indigestion.
Yoga therapy also looks at dimensions beyond the physical. A yoga therapist will focus on the individual at the physical, psychological and spiritual levels, and prescribe specific protocols to manage their health challenges, reduce their symptoms, restore balance and increase vitality. Studies show that yoga therapy is particularly effective in treating chronic conditions that don't respond to conventional medical treatment. I've not only experienced this myself, I've also seen how well it works for clients with a whole range of issues. That's why I'm passionate about training people to bring this work into the world.
Find out more about AUM's Yoga Therapy Certification program and Yoga Therapy Community Clinic.